MANULI NEWS

All the latest News, Bulletins, Events, Articles and Advertising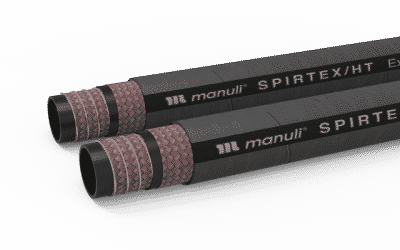 Spirtex/K is a high performance, R4 hose which has remained one of the most popular and reliable Manuli hoses since its launch. As part of our continuous improvement and development policy we have created two new hose families based on the success of the original...
read more
As part of our strategic plan to further improve the effectiveness and efficiency of our supply chain and logistics functions, Manuli Hydraulics will soon relocate our European Distribution Hub from Bodenheim, Germany, to a 11,500m2 facility in Legnica, Poland. For...
read more
On 28th April to 1st May Manuli Hydraulics will be exhibiting at the annual National Association of Hose and Accessories Distributors (NAHAD) convention in Marco Island, Florida, USA. Manuli will showcase their extensive range of connection solutions dedicated to the...
read more
Manuli Hydraulics is pleased to announce the acquisition of the majority of shares of the Indian company PSI Hydraulics (PSI). PSI is India's 3rd largest company in the field of Hydraulic Fluid Conveyance Solutions, having operations in Bangalore and Udaipur. Manuli...
read more
Manuli Hydraulics have been honoured with the award for "Best Supply Performance" at the Manitou supplier conference. The Manitou Group are a worldwide leader in material-handling, and recognise suppliers at their awards based on their performance throughout the year...
read more
No Results Found
The page you requested could not be found. Try refining your search, or use the navigation above to locate the post.